In the morning of December 16, Blue Moon Group Holdings Limited (hereinafter referred to as "Blue Moon") was successfully listed on the Main Board of Hong Kong Stock Exchange, becoming the first stock among large daily chemical companies in China to enter the Hong Kong stock market. The stock code is "06993". In the listing, Blue Moon proceeded the global offering of approximately 747 million shares at the offer price of HK$13.16 per share. The raised proceeds will be used to finance the business expansion, production capacity, laundry service, brand awareness promotion, channel distribution, research and development, etc.
At the listing ceremony, LUO Qiuping, founder and CEO of Blue Moon, expressed his gratitude to all sectors for their supports to Blue Moon. "In the future, we will continue to focus on our consumers' needs and strive for innovation to provide full-suite cleaning solutions in order to popularize 'Clean' lifestyle and to create a clean, healthy, comfortable, respectable and delightful 'Blue Moon'world. We will continue to contribute to the society."
With regard to Blue Moon's listing, ZHANG Lei, founder of Hillhouse said, "15 years since Hillhouse was established, we have been committed to seeking entrepreneurs with great vision. Along the way, outstanding entrepreneurs like Mr. LUO have helped us create crystal clear portrait of 'great vision'. Ten years represent a lasting love, and we have always accompanied each other. Up to now, we have been with Blue Moon for a full decade. Here I would like to congratulate every fellow of Blue Moon on your continuous innovation and hard work that have created the national-level brand of Blue Moon. The listing is the beginning of a new journey. We look forward to new miracles to be continuously made by Blue Moon, which will keep marching towards the goal of becoming the world leader in the daily chemical industry."
As a well-known domestic household cleaning solutions provider, Blue Moon presented a dazzling performance in the industry. Blue Moon's liquid laundry detergent, liquid soap and concentrated liquid laundry detergent products had the largest market shares in their respective markets in each of 2017, 2018 and 2019, according to the Frost & Sullivan Report.
In addition, in the Double 11 of 2020 that just passed, Blue Moon once again topped the sales list of liquid laundry detergent, winning the first place in the sales rankings of clothing cleaning brands in multiple channels such as Tmall, JD.com and Suning.com.
The industry believes that with its strong innovation and scientific research capabilities, diverse product matrix, forward-looking omni-channel layout and other advantages, Blue Moon will benefit from the bright prospects of the industry, lead the consumption upgrade, and continue to stabilize its leading position in the industry.
Steady Improvement in Operating Capacity and Substantial Growth in Performance
In recent years, Blue Moon's performance and profitability have maintained a steady increase. According to the prospectus, from 2017 to 2019, Blue Moon's revenue was HK$5,632 million, HK$6,768 million and HK$7,050 million, respectively, representing a CAGR of 11.9%, more than twice of the industry growth rate; net profit was HK$86.16 million, HK$554 million and HK$1,080 million, respectively, representing a CAGR of 254%. Under the influence of the epidemic, in the first half of 2020, Blue Moon's net profit still maintained a strong growth rate of 38.5%, reaching HK$302 million.
At the same time, since 2008, Blue Moon began to execute the strategy to build advanced IT systems for business operations and developed highly integrated proprietary IT systems based on mobile internet and big data technology to manage operations. Empowerment of advanced IT systems contributed to the continuous improvement of Blue Moon's operational efficiency. Data shows that Blue Moon's inventory turnover days have been continuously shortened from 96.8 days in 2017 to 69.5 days in 2019. Blue Moon has significantly reduced the labor hours per unit product by approximately 10% between 2017 and 2019.
Continuous Innovation and R&D to Improve the Diverse Product Matrix
Innovation has been the DNA of Blue Moon for 28 years.
In 2008, Blue Moon took the lead in promoting laundry detergent nationwide through innovation, opening the curtain of the era of China's liquid laundry detergent. In 2015, Blue Moon broke through the technical difficulties to launch the first domestic Machine Wash Supreme "Concentrated Plus" Laundry Detergent with pump dispenser, which once again set off a revolution in the China's washing market. In 2018, "Supreme (至尊)" laundry detergent was launched, enriching the domestic premium laundry detergent market and leading the industry into the era of biotechnology liquid laundry detergent.
Through continuous innovation and R&D of new products, Blue Moon provides a full suite of household cleaning solutions, so as to respond to rapidly changing market demand in a timely manner, cater to different life cleaning scenarios of different consumer groups, and provide hundreds of millions of Chinese families with cleaning solutions.
At present, Blue Moon has developed a wide selection of products under three categories: fabric care, personal hygiene and home care, becoming a large daily chemical company with a diverse product matrix. Besides the flagship "Blue Moon (藍月亮)" brand, Blue Moon has also successively rolled out bathroom cleaning products under "Volo (衛諾)" brand, concentrated liquid laundry detergent products under "Supreme (至尊)" brand, premium liquid soap products under "Jingxiang (凈享)" brand, and utensil, fruit and vegetable cleaning products with a mild and gentle formula under "Tianlu (天露)" brand, which have laid a solid foundation for the strategies to diversify the brand portfolios.
Omni-channel Layout of Sales Network to Boost the Brand Development
Benefiting from both the rise of e-commerce and the increase of distribution channels, Blue Moon has significant advantages in omni-channel layout, and has gradually developed an omni-channel layout of "e-commerce platforms + direct sales KAs + offline distributors" to deepen the brand penetration in various channels and scenarios where consumers are located.
For online channels, as an early mover in China's household care industry to utilise e-commerce, Blue Moon has built a powerful omni-channel distribution infrastructure and has partnered with major e-commerce platforms in China for approximately ten years. According to the Frost & Sullivan Report, the liquid laundry detergents of Blue Moon ranked first in the online liquid laundry detergent market in terms of retail sales value in 2019, with a market share of 33.6%, which was more than two times the market share of the second-ranked Chinese liquid laundry detergent company.
For offline channels, as of 30 June 2020, aside from national and regional supermarkets, nearly 70% of Blue Moon's offline distributors were located in tier-three and lower-tier cities, covering retail points of sale in more than 2,600 districts and counties across China. Blue Moon ranked first in China's offline liquid laundry detergent market in terms of retail sales value from 2017 to 2019.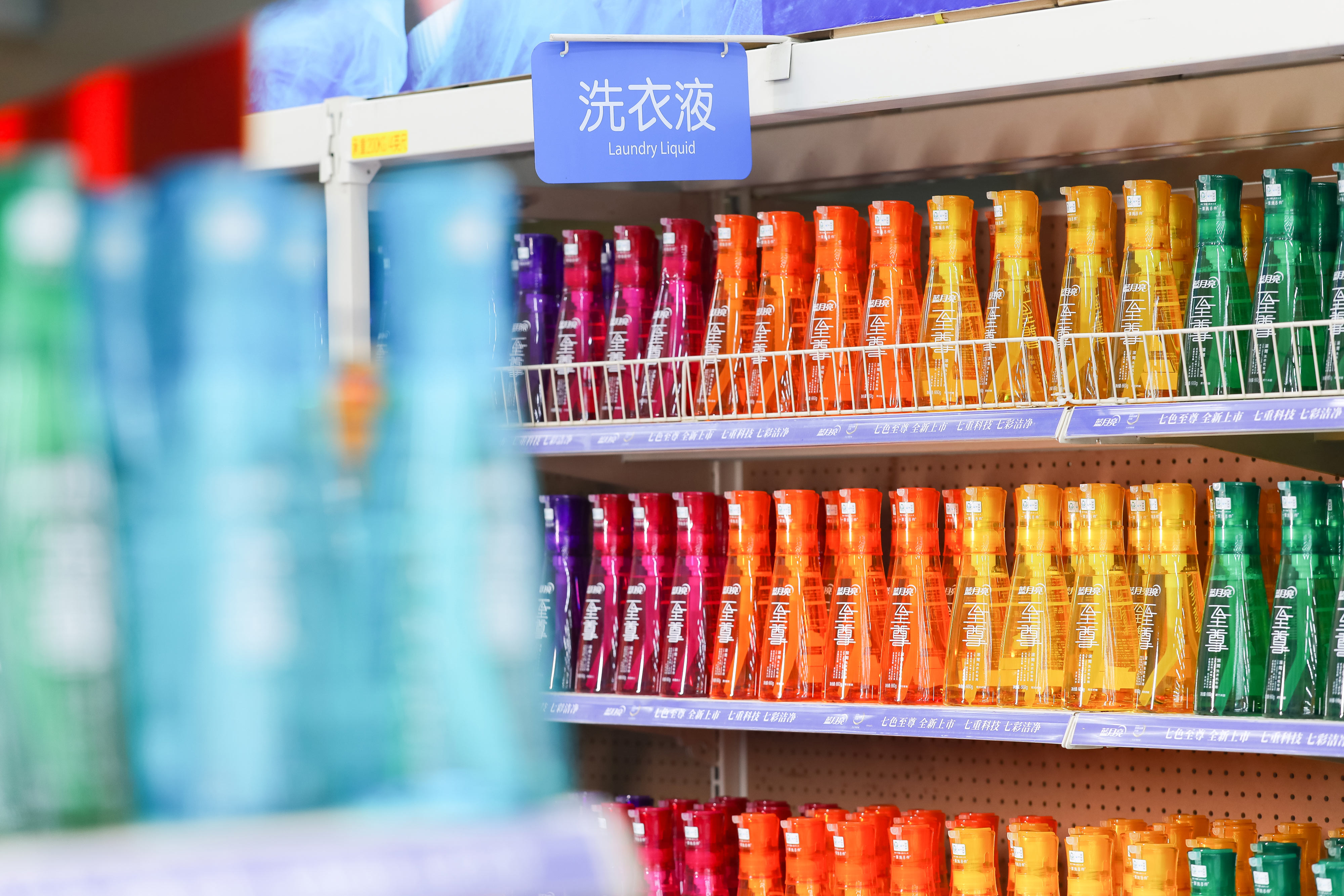 Significant Industry Growth Rate with Promising Future Development

According to the Frost & Sullivan Report, China is one of the world's largest household care markets. The market size of China's household care market as measured by retail sales value is expected to grow from RMB110.8 billion in 2019 to RMB167.7 billion in 2024, accounting for over one third of the growth in the global household care industry from 2019 to 2024.
Leveraging on the development principle of the domestic grand economic circulation and the support of the trend of consumption upgrade, Blue Moon, as the leader of the industry, will maintain its first-mover advantages with the help of its strengthened brand image, product capacity and channels, and continue to benefit from the domestic consumption upgrade and rapid development of the industry. The industry players believe that the listing will be conducive to Blue Moon's expansion of its global financing channels, and will provide a broader platform for the development of the company. The future development of Blue Moon will be highly expected.